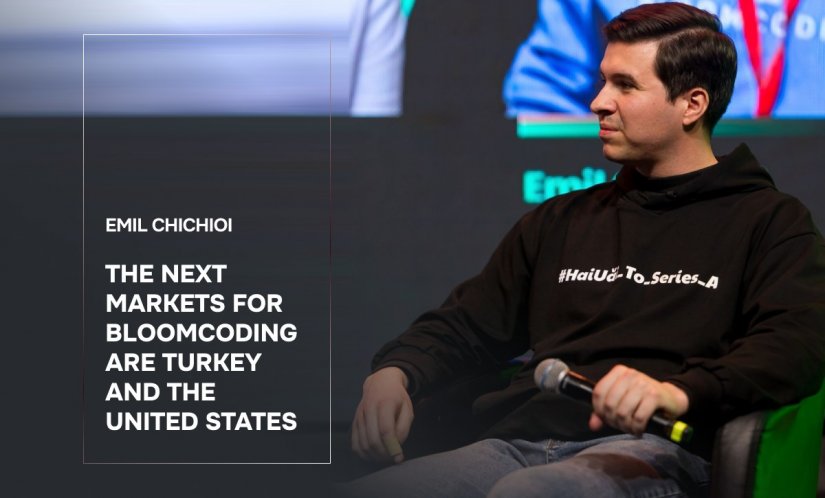 Emil Chichioi. The next markets for Bloomcoding are Turkey and the United States
An Interview with Emil Chichioi
, CEO and Founder of Bloomcoding.
I was very lucky to get a chance and meet Emil at the very origins of the story. Let me explain.
In February of this year, Bloomcoding, a Moldovan EdTech company that teaches children programming through an online platform using AR and VR technologies, raised €1 million from Credo Ventures of Prague, Inovo VC of Warsaw, and Genesis Ventures of Ukraine
This is February 2023. My first interview with Emil Kikioy, the founder of Bloomcoding, came out two years ago, in February 2021, when Emil was only 23 years old. Though, 25 doesn't seem to be much more than that.
Two years ago, Bloomcoding was still a year-old startup that had made, thanks to the pandemic, a "pivot" to online learning. Emil's original plan was to create Bloomcoding as a "regular" programming school, but the pandemic has pushed him into the online business, and, he took advantage of this 100%. Three years ago, starting from Amsterdam (Emil studied there), hired teachers in Moldova to teach programming in Romania. Emil brought Bloomcoding to a million euro round.
What was Emil like at 23 years old?
Two years ago at the end of the interview, I asked him about life in Amsterdam. He then, as a student, said, "...Student life is always about communication. I was into debating here. I traveled around, probably all cities in the Netherlands. What else can I say... I changed the apartment I rented with my friends to one I rented with my girlfriend. I love the pub in the campus, it's always better to drink beer with friends, and like everyone else, I'm waiting for the pandemic to be over, to get back to normal life, without lockdown... "That was exactly two years ago. And now it's 2023. Emil and I are no longer talking online. We're sitting in a Chisinau restaurant and we are «summarizing» the year 2022.
Emil, we had another interview a couple of days before the start of 2022. Bloomcoding was already on its way up, and you had won one of the 15 spots in the "Place" accelerator out of 350 applications. But there was still no sign of a million dollars. So 2022 was a year of tremendous growth?
"Place was not the only accelerator where we participated. There were a total of 6 accelerators that we took part in. The best one was probably Startup Academy in Ukraine. There were about 2,000 applications, but we won. It was held by "u.ventures", a major player on this market from Ukraine.
You didn't get the money from the accelerator you got it from foundations, isn't it?
At the beginning of 2022, we got 100,000 euros from Mozaic (an international community of business angels with an office in Moldova) and Business Angels Moldova. Then, we grew very quickly. We were fundraising in the region of central and eastern Europe, the region where we work and grow. While other founders were talking to dozens of foundations, we concentrated on meeting just a few. But we were already attractive and closed the round pretty quickly. We had most of the money in October.
From Credo Ventures, Inovo and u.ventures?
Yes, one million.
A million is already a significant amount to accelerate a business. What markets is Bloomcoding working in now? Has your model changed?
We are now working in Romania, Poland, and Bulgaria. There are already about 25 people and 35 teachers in our team. So far, we are concentrating our efforts on the same area we started with - teaching children how to program. However, there are plans to begin developing other digital skills as well. We are going to enter the art and design segment. Start teaching web design, graphic design, and video editing. We are analyzing the market and weighing up further steps.
How do you solve the issue of human resources?
In Bulgaria and Poland, we hire local teachers. We "arbitrage" teachers for Romania - we engage them in Moldova but they work for Romania. We also plan to enter the Turkish market with teachers from Gagauzia. Turkey is very attractive and our niche is practically still free.
How many students do you have at the moment?
We have about 1,000 active clients at the moment. And for 2023, we are planning severe growth.
Shall we talk about the plans out loud?
We aim to become the market leaders - dominant players in the region of central and eastern Europe. First of all, it is Bulgaria, Romania, and Poland. We are launching in Turkey in April. We only have one competitor there who is not that strong. They have already raised $9 million, but we have our advantages. Our strength is that although we are essentially creating a marketplace for teachers and students, it is a marketplace that is fully managed by us. We control everything. We choose the teachers; we have an internal academy, and teachers follow our standards. We want to offer the same high quality for all students. We learn best practices and strive to make them our standard of work and a guarantee of quality.
Bloomcoding has 1,000 students today. What if 10,000 parents apply tomorrow? Can you handle it?
This is our main task right now. Here is what we told investors: "We are not yet able to catch up with our demand. " In Bulgaria, we are 2-3 months behind in absorbing applications, but we're dealing with that now. What we are thinking about first and foremost is how we will structure our work when we collect 10 million applications. It will take thousands of teachers.
You need to open your hub for teachers...
This is something we are working on seriously. We have created a career development program in the company on how a teacher can grow from junior to team leader. At 160 working hours per month (eight hours in twenty days), our teacher earns more than a junior in any IT company in Moldova. We already have a project; we teach 600 Ukrainians a course made by the best teachers.
Can you do it alone? It's a huge amount of work...
At some point, I realized I could only do it with a Co-founder. I have a partner now with solid expertise in recruiting, sales, and customer support. Michaela Kavinska has worked in all three of these areas, for six years, in Romania and Poland. She has an extraordinary story - she's an actress by profession, the kind of person who has an unusual biography. Now we are developing Bloomcoding together and we have a great team of like-minded people.
Since the end of last year, neural networks have rapidly burst into the world. Artificial Intelligence is already doing wonders and remarkable things today. Are you keeping up with the pace of change?
We are now preparing a new virtual classroom, where we are starting to allow children to be educated in the latest trends of the 21st century. We're working with a case where 20 kids work with two facilitators to create a game. They learn to work together, they learn to program, and they develop their soft skills. In a fast-moving world, soft skills will allow them to adapt to any change. This is what we are going to enter the American market with. This market is a huge opportunity, it is the "unicorn" for us. One way or another, we will be there.
Emil, in the first interview, my last question was, "What do you do besides business?"
Shall we keep the tradition alive? Let's do. I have my creative side. I'm also a DJ, and I take that pretty seriously. When working on my mixes, I forget about the rest of the world...
"This material was produced with the support of the Future Technologies Activity Project, funded by USAID, Sweden and UKaid in partnership with Moldova Innovation Technology Park. The content of the material represents the views of the author and does not reflect the opinion of USAID, US, Sweden or UK Governments."