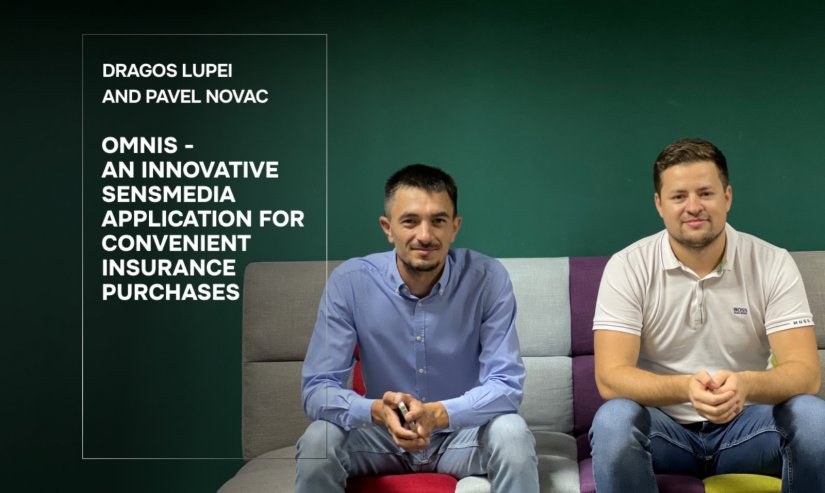 Dragos Lupei and Pavel Novac. OMNIS - an innovative SENSMEDIA application for convenient insurance purchases
The interview with Dragos Lupei and Pavel Novac, founders of the IT company SENSMEDIA.
Dragos, Pavel, good day. As far as I know, SENSMEDIA has been in the market for several years, and to this day, you have numerous significant projects and an impressive client base. What is your experience, and where did you start?
Pavel. Good day! SENSMEDIA has been in the market since 2014, and our initial projects were Moldovan news portals. The team was quite small at the beginning, but it was sufficient to provide quality website development services. Even now, despite our expansion both in terms of quality and quantity, we continue to work with clients in the media industry.
Dragos. I'd like to add that SENSMEDIA is primarily about talented individuals working in the IT field, offering solutions for both Moldovan and international partners. We create websites, mobile applications, and provide consulting services in the field of information technology. We also launch our own startups. Our main goal is to provide a full range of services to ensure that the client feels comfortable working with us at every.
There are many Moldovan IT companies that, from their inception, focus exclusively on international clients, but you started with the local market.
Pavel. Yes, but over time and with experience, we started working with clients across Europe. It took us a couple of years to establish ourselves in the local market, build a good reputation, and secure larger clients. After that, we began expanding our work to the international market.
Dragos. For international clients, such as those from Romania, receiving quality services at an affordable price is important. In many European countries, IT service rates are higher than in Moldova, yet our quality and speed are on par with, and often surpass, those offered abroad. This applies not only to our company but to the entire IT sector in Moldova as well.
How has your team grown over the years of operation?
Dragos. Currently, SENSMEDIA consists of a team of 10 young and talented specialists. It's a small team, but we are not pursuing rapid team expansion at the moment. Instead, we emphasize professionalism and focus on solving specific tasks. Most of our employees are graduates of the Technical University who were part of the FAF community at the university and have excelled in both their studies and practical work.
You also develop your own startups, and among them, there is at least one social project. Tell us about this project...
Pavel. The project is called openmoney.md, and it provides information about the real beneficiaries of government contracts and tenders. On the website, you can see who won the contract and find out its amount. All the data is free and open to the public for every user.
Dragos. While creating websites for several Moldovan news portals, we learned more about the work of journalists and how investigative journalism is conducted, specifically the challenges they face. One of the difficulties is the lack of quick access to official information, including information about the beneficiaries of government contracts. In the past, to find the name of a company, a person's name, and the amount, you had to sift through a vast amount of information presented in inconvenient formats from various sources. On openmoney.md, we have gathered all the data and presented it in the most user-friendly format, along with a search function that allows users to quickly find everything they need.
I'm sure you've heard words of gratitude for this project from journalists who previously had to painstakingly gather the necessary information. But what about startups for a broader audience?
Pavel. In 2020, we began working on the OMNIS application. With this app, every user can literally buy insurance from their phone in just a minute. For the Moldovan market, this application was a novelty because we didn't have a dedicated tool for such operations before. The insurance market in our country is not yet sufficiently digitized, which creates a range of problems for both companies and customers.
Dragos. One of the advantages of OMNIS is that you can make payments 24 hours a day, seven days a week, and get insurance instantly. After entering your information into the app once, you don't have to fill it out again for subsequent transactions. Purchasing insurance takes just a minute or two. Currently, you can use the app to buy mandatory motor insurance (OSAGO), the "Green Card," and travel insurance.
When was the app launched?
Pavel. It was launched on April 7, 2023. As of today, the app has around 2,500 users throughout Moldova. We are pleased to see that active users of the app come not only from Chisinau but also from various regions, and we receive strong positive feedback about the app's performance. Just a few months after its launch, OMNIS received the "Best Innovative Service" award at the Moldova Innovation Awards 2023. For our entire team, this was a significant and important achievement, demonstrating that we have created a high-quality and useful product.
Will you expand the functionality of the app?
Dragos. Yes, we have plans to add several more types of insurance to the app. This includes property insurance, vignettes for Romania, and comprehensive motor insurance (Casco). We also plan to add a feature for paying road taxes.
This material was prepared with the support of the Future Technologies in Moldova Project (FTA), funded by USAID, Sweden, and the United Kingdom in partnership with the Moldova Innovation Technology Park. The content of the material represents the author's viewpoint and does not reflect the views of the governments of the United States, Sweden, or the United Kingdom.
Svetlana Markova