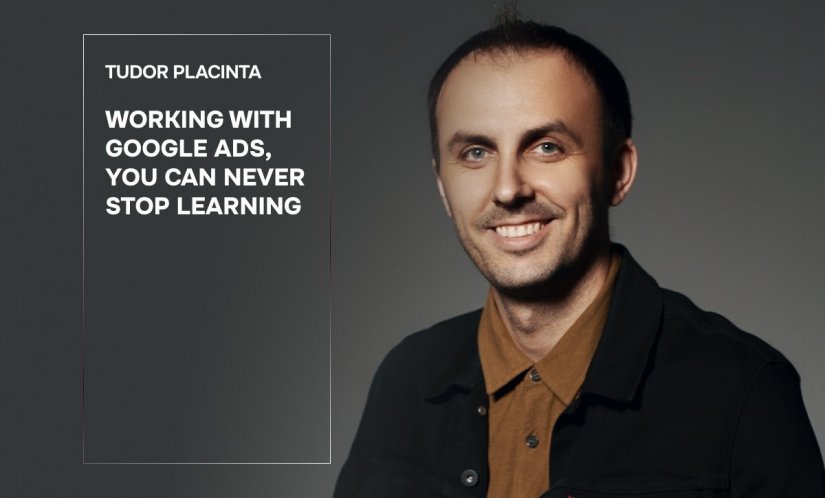 Tudor Placinta. Working with Google Ads you can never stop learning
The interview with Tudor Placinta, owner of Boomerang Agency.
Hello Tudor. I stumbled upon our interview from three years ago. You described yourself then as a "Google Ads & Analytics specialist with 6 years under your belt, having serviced more than 350 clients, managed over 1.5 million euros (!) in advertising budget, and as the founder and trainer of the Google Adwords School with 350 graduates." So, what has changed in these three years?
I've added another three years of experience to my repertoire, and what's most important, I've never stopped learning. The dynamic landscape of Google Ads doesn't allow for any downtime. The algorithms governing search and promotion are in constant flux, and new tools emerge all the time. Outdated knowledge won't get you far in this field. Constant practice coupled with continuous learning is key.
That was your introduction at a forum where you were invited as a speaker. How would you describe yourself today?
Today, I consider myself an expert in Google Ads, assisting businesses to increase their visibility in search engines and attract more online customers. In addition to that, I've also been working with freelancers and firms to improve their proficiency in Google's services, offering mentorship in Analytics and e-commerce. However, I don't plan to limit myself to these domains. I am always looking to expand my skills and expertise.
How would you introduce your company, Boomerang?
That's where Google comes into play. They have recognized Boomerang with premium partner status. Amongst approximately thirty companies that offer similar services in our market, we are one of only two companies that hold this prestigious status.
So, have you built up a large team at the moment?
We are a team of fourteen. Our Google Ads department is made up of seven specialists, including the department head and an internal audit manager. They also interact with clients, but their primary focus is on coordinating work or overseeing quality control. We also have a separate department dedicated to media and promotions on social networks. We have an in-house designer and an events department that assists me in organizing both online and offline courses.
By the way, what's your preferred method for conducting your classes?
There are times when online instruction is inevitable, such as when I'm teaching a course with participants from both Romania and Moldova. However, frankly speaking, I have a preference for direct engagement with the audience. The immediate emotional responses, the questions, and the interactivity all combine to make teaching more effective. More than that, it invigorates me in a unique way. The experience of inspiring the audience, in turn, energizes me.
How long has Boomerang been active in the Moldovan market?
We first formed a partnership with Google back in 2014. That's nine years in the market, with a ten-year anniversary on the horizon.
You've got a remarkable past... Could you share some insights about your present market situation? Is it a "client's market" with limited orders and high competition for clients? Or is demand for your services exceeding your capacity to supply?
As it stands now, it's almost as if the clients are "competing" for our services, particularly those agencies that have a proven track record and continue to uphold their professional standards. Of course, there are big players, like telecom companies, where we'd never pass up the opportunity to participate in a tender. It's important not to become complacent in this industry.
Who are the market leaders among your clients?
We collaborate with nearly every sector of the economy. Within each industry, we work with top companies such as Medpark or Volta. Occasionally, a client like Zbor.md grows to such an extent that they start managing their own promotional activities in-house. However, this doesn't eliminate the potential for us to provide them with consulting services or for them to return to us in the future. I believe that in today's world, specialization is key. From my perspective, it's much more effective for any business to focus on what they do best and leave the secondary tasks to the experts.
Is your focus limited to the Moldovan market, or does your expertise extend further?
During the pandemic, our focus shifted towards diversification and penetrating foreign markets. At this point, more than a third of our clients are based abroad. Just a year ago, we established a company in Romania. Given our level of expertise, we're equipped to operate in any market, at least those where we're proficient in the communication and advertising languages.
So, aside from Moldova and Romania, where else do you operate?
We're operational in the USA, the UK, and Ireland—that's where English is spoken—and in Italy, thanks to a member of our team who is perfectly fluent in Italian. When it comes to working with Google, language and semantics really do matter.
Do you use Google or social media for your own promotional purposes?
There's a bit of irony in the fact that we rarely do. Previously, we relied solely on client recommendations. However, now that we've become more active on Facebook, we do see occasional client referrals from there. But my current priority is not about quantitative growth, rather, it's about delivering maximum quality to all our existing clients.
When did you start working with Google?
I started delving into Google's technologies back in 2012 as a professional. By 2013, I was launching the first experiments and overseeing the initial test campaigns. Despite being involved with Google for over a decade now, I recognize that in this field, the learning never stops.
Speaking of new things! As a Google partner, you're always on the frontline of information. How does Google respond to the threats and opportunities from artificial intelligence?
A conference this past May dedicated specifically to advancements in digital technology marked an important development. The spotlight has now shifted towards enabling Google partners to independently create ads within their own dashboards, or by leveraging artificial intelligence. With this approach, tasks can be provided in descriptive form, and AI will autonomously generate text, ads, and images. In other words, you provide the instructions, and Google executes.
Despite the promise these advances hold, they also pose potential threats. Artificial intelligence could fundamentally alter the very algorithm of online search. After all, users are primarily interested in the final result, not the process of sifting through search links.
I am confident that Google is already addressing this issue. The search algorithm, which has been refined over the years, along with the substantial user stickiness, gives Google plenty of room to adjust to these emerging possibilities, especially considering the company's potential.
Yet these advancements bring about a familiar question: Do we need to learn new skills again?
This is why I'm increasingly shifting my personal focus towards mentoring and training courses. When mentoring, there's a unique satisfaction in witnessing the evolution of a beginner into a person earning an income of 2-3 thousand euros.
Have you developed a fundamental course of some sort?
Previously, training was primarily demand-based. Now, I aim to establish a more sophisticated and better-structured course system. This is particularly important as artificial intelligence has introduced, and will continue to introduce, many novel elements to the algorithms that govern our work. Beyond the course itself, I aim to foster a large, active community to facilitate the continuous engagement of new people and the organic growth of specialists. I am often requested to recommend specialists, but many times, I find myself without suggestions.
Considering the balance between agency work and courses, which will be the focus of your attention?
While considering the balance between agency work and courses, I feel a pull towards course creation. This is a fresh pathway for me, and it resonates with me on both an energetic and emotional level. There's a deep sense of satisfaction in witnessing the participants of my courses grow professionally and achieve more in their careers and in life.