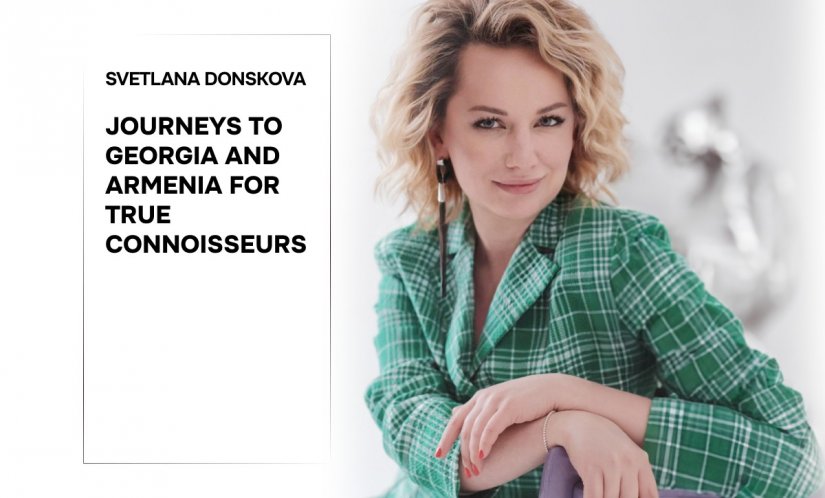 Svetlana Donskova. Excursions to Georgia and Armenia for true Connoisseurs
An interview with the founder and director of the Tur-Expert agency.
Greetings, Svetlana. Observing your social media posts, I have taken great pleasure in noting that you have commenced operations in new tourism destinations. In fact, you have chosen quite 'delectable' destinations, referring to Georgia and Armenia. Is my assumption accurate? For how many years have you been engaged in the tourism services sector?
Next year Tur-Expert celebrates its 15th anniversary; we opened in 2009. That was the year when tourism boom began, with our fellow countrymen truly starting to explore the world, and it struck me as a worthwhile venture to establish a travel agency.
I reckon, you have never regretted this decision…
Not once, I adore travelling. Over these years, I've been involved in diverse businesses - from women's underwear to cider production.
Yet tourism has always remained my passion. Due to the pandemic and the understandable circumstances, my priorities shifted towards cider production, and as a result, I didn't travel for a year. This elicited astonishment among my friends. They all asked: "How can it be? You haven't gone anywhere for a whole month?"
Let us revisit the 'history' of your tourism business. How did you get started?
It all began with our first travel office on Mateevich street with tours to Turkey, Bulgaria, and Greece. Although, in essence, we were already a boutique agency at that time. We never significantly advertised, always advocating for a personalized approach to our clients, who came increasingly through referrals and quickly became friends.
It seems to me that you didn't linger long in the 'traditional' tourism destinations, isn't it?
We continued to support the traditional destinations because business is business, but I myself became enamored with VIP tourism. Although, not simply VIP (I've had clients with smaller budgets) but what one might call 'tailor-made' tourism. This involved crafting a unique tour for each client, couple, or small group.
As I imagine, in order to do that, one needs to know very well the destination they're selling.
That's exactly what happened. At the time, parallel to tourism, I was importing women's underwear to Moldova and often flying to Paris. I fell in love with that city. I learned the city center by heart and therefore could design any personalized program to fit any taste or budget. I recall a young man who dreamt of proposing to his girlfriend in Paris but was quite limited in funds. I concocted a simple yet romantic solution for him since I had noticed a spot by the Seine where one could spread a blanket on the grass and enjoy the boats passing by, especially in the evening. I marked the spot on a map, suggested he could take the blanket from the hotel, pinpointed a shop where he could buy a bottle of champagne, a baguette, and cheese. I believe it was the most romantic marriage proposal in Paris that day.
I can already visualize the scene.
For others, I reserved places in 'Le Jules Verne', a restaurant atop the Eiffel Tower where bookings are made months in advance, but I managed to expedite things considerably.
You recount your stories so captivatingly that it seems to me Paris should be one of your 'aces'. Everyone wants to bring back unique impressions from their trips.
I will definitely return to Paris and also Istanbul, which I adore and know well. However, for this summer, I've chosen a different direction for myself and my clients.
Based upon your Facebook photographs, I assume that you've ventured to the Caucasus region? Georgia, perhaps?
It's a remarkable region, indeed.
I want to ask more, but first, let's finish the topic about you and cider. Our last interviews were about how you fully jumped into cider production, I personally tasted three or four of your ciders. What's happening with this business?
I put it on hold. You're right, cider consumed me entirely for nearly two years. The idea came at the start of the pandemic when tourism shut down, but sitting idle is not for me. In early June, I became interested in cider production, and less than a year later, in April, I already presented the first blends of this beverage.
So, everything was going well, why the pause?
The problem lies in Moldovan legislation. Craft cider production isn't regulated at all. Yes, you can 'play' with small batches, but when I thought about scaling the business, I realized that it wasn't possible within the existing law. Hence, I decided to put cider 'on hold'. Although every cloud has a silver lining. I got reacquainted with a multitude of winemakers, not only in Moldova. And, these acquaintances come in handy during trips to Georgia or Armenia as well."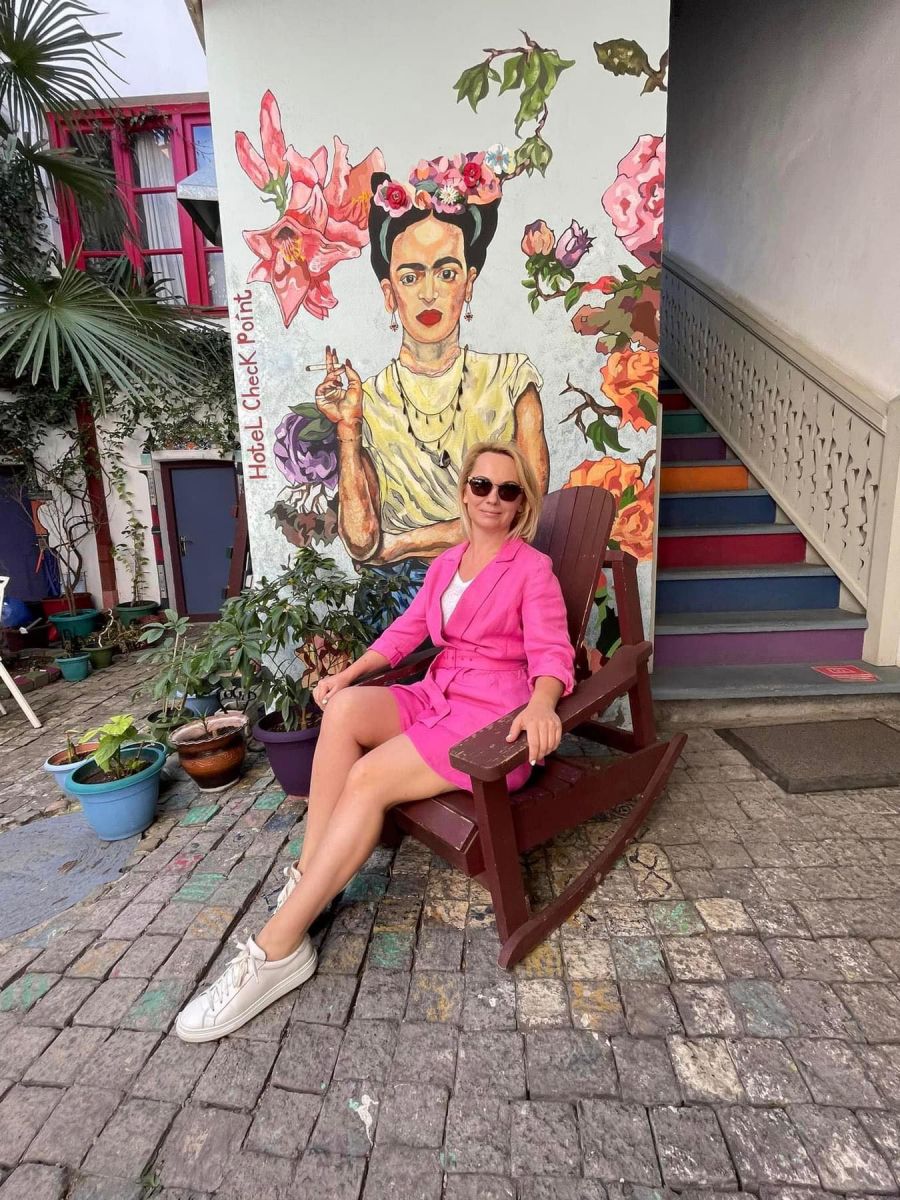 Understandable. So, the Caucasus?
When I returned to tourism, I was not inclined to sell all-inclusive packages. I aspired to explore new places and acquaint myself with the viniculture and gastronomy of other countries.
Ah! It seems to me the Caucasus is an ideal destination for such exploration. It's a veritable melting pot of cuisine, hospitality, wine, tradition, and sublime nature.
You're absolutely right. I first visited Armenia, followed by Georgia. In keeping with my newfound habit, I began by networking with local winemakers. And when direct flights commenced, the logistics of tourism in this region immediately simplified.
Do you gather small groups and accompany them yourself?
Indeed, I restrict the group to no more than twelve individuals. Such a size enables everyone to hear me or the guide effortlessly, facilitates consensus among participants, minimizes tardiness, and by the journey's end, we feel like a family.
Tell me about the travel programs.
For example, our latest trip to Georgia. Two days in Tbilisi might appear insufficient. Yet in this brief span, we could still explore the old town by foot, trek to a waterfall, take the funicular up to the fortress, and visit a famous Khinkali restaurant. There, we finally learned to eat Khinkali properly, without a knife and fork. By the way, at traditional feasts, they are served like our cabbage rolls, at the very end, before dessert.
Don't make me hungry.
You didn't stay only in Tbilisi, did you?
Of course not. On this occasion, we ventured into Kakheti, interacting with several winemakers, and attended an evening feast hosted by a master of Qvevri, the bearer of this ancient tradition. His wife prepared a traditional Georgian dinner - a cornucopia of delicacies. Georgian musicians, masters of polyphonic singing, were invited. We reveled and mastered the art of toasting.
I'm already endeavoring to carve out time for such a journey.
"Our itinerary also included a wine spa hotel and a visit to the city where Pirosmani gifted his million roses. Regardless of the weather, we visited an ancient cave city. The energy there is simply amazing, not to mention the incredible views that open up to visitors of the city, as the caves themselves are located on a hill.
In the updated program, I'll add Kazbegi to enjoy the views of Kazbek and the Gveleti waterfall. There are also sulfur baths and a puppet theater.
Tell me more about the updated program itinerary.
I've scheduled a new trip for the 27th of June, and in July - Armenia and the Armenian Vardavar - a festival known for its custom of mutual water-dousing. Simply put, be prepared to get doused by a passing watering truck. Yet, no one will prohibit you from taking a dip in a fountain on that day.
What kind of budget do these trips require?
It's quite reasonable. The flights cost around 300 euros, and the tour itself ranges between 650-800 euros, depending on the itinerary. The tour cost encompasses meals and accommodation.
Will such bespoke tours only be in the Caucasus region?
I'm considering Istanbul and Paris, and also, oenological and gastronomical tours to Portugal, France, and Italy. Currently, I'm collating information and planning to visit these places personally, to experience firsthand and prepare for a group tour.
What can I say? I think dozens and hundreds of people will thank you for this. You know how to unveil the world.