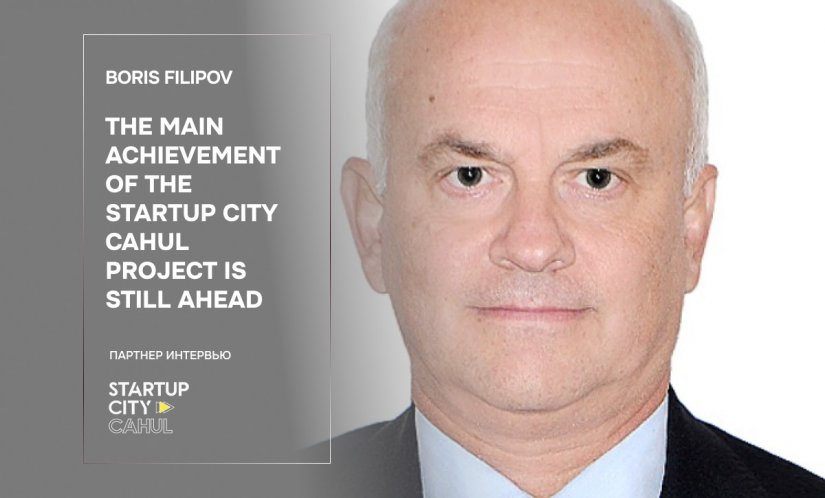 Boris Filipov. The main achievement of the Startup City Cahul project is still ahead
An interview with Boris Filipov, Attaché, Programme Officer Economic Development of the Delegation of the European Union to the Republic of Moldova. The column Startup City Cahul with the support of ATIC.
Hello Boris. The European Union's support of Moldova is one of our country's most significant support programs. Why did you choose Cahul as part of this support?
Cahul and the Ungheni regions were identified some years ago as focal areas for EU support. As far as I understand, this was mainly done because they are among the neediest regarding living standards and economic development. Thus, the EU wanted to provide more opportunities for people living there. In addition, the local authorities were very interested in receiving this support and ensuring accountability. There is good collaboration with them now. There were also integrity considerations. Apart from Startup City Cahul Project, implemented in partnership with Sweden and ATIC, we have a more extensive program - the EU4Moldova Focal regions, which is being implemented. Other EU- funded projects implemented nationwide also have activities in the two areas. We believe in the potential of the two regions, which, besides, are neighboring the EU.
What was your personal experience before coming to Moldova?
I came here in June 2019 after six years of work in the EU delegation in Kyiv, mainly dealing with small and medium-sized business support. Before that, I worked in Tajikistan on small and medium business development issues. In Moldova, I am responsible for economic development , mainly small and medium businesses support, government procurement, customs , and overall digitization of the economy.
You have experience working in former Soviet countries, and I am interested in your opinion on Moldova regarding small and medium business development after working in Ukraine and Tajikistan.
Moldova is very supportive of small and medium-sized business development. You already have developed infrastructure that promotes entrepreneurship, and many programs are being implemented, especially in recent years. Moldova can be an example for many countries in terms of attention paid by the authorities to this sector and the results achieved.
Let's go back to Cahul. What do you consider the main achievements of the project in Cahul that would not have been possible without EU support?
The main achievement is still ahead. The project aims to create an Innovation Center in Cahul, including constructing a new modern building for its location. So far, only preparatory work has been done, but construction has yet to start. This is due to the rise in construction materials prices due to Russia's war of aggression in Ukraine, which means that the budget allocated needs to be increased. We are working to secure additional funding. In the meantime, some premises at the Cahul State University will be renovated as part of the project to meet modern requirements.
Which achievement of EU4Moldova Startup City Cahul would you personally highlight?
While the project's first component has some implementation delays, the second component is progressing very well. STEM disciplines are being developed, and many events are being organized to attract youth to use and contribute to developing new technologies. It is pleasing to see more and more students, even very young ones, interested in coding, robotics, etc. The digital laboratories created in several schools with modern equipment provide a good foundation for such learning and practice. The project has already significantly contributed to preparing the new generation for the digital era, and much more needs to be done in the coming years.
The EU has a comprehensive strategy for digital education and entrepreneurship promotion. What are the plans? How will Cahul change, and can this model be replicated throughout Moldova?
The project will continue its implementation, and we are discussing its expansion to enable the construction and operation of the EU Innovation Center. Therefore, the planned activities will continue, and better conditions will be created to benefit from them.
As part of the project's third component, the Digital Impact program was launched last year, and six beneficiaries have already been selected to implement new IT systems necessary to increase efficiency and competitiveness. Soon, the second call for proposals will be announced to invite technology startups to apply for funding. At least five applicants will be awarded a grant of up to 40,000 EUR.
We also expect the EU Innovation Center to become an essential element of the Moldovan innovation ecosystem and attract startups to Cahul. We hope that the center will become an innovative hub, well integrated into the Moldovan and European networks of innovation centers.
In the coming years, the EU will support small and medium-sized enterprises and human capital development as components of the Economic and Investment Plan for the Eastern Partnership, aimed at transforming the economies of Eastern European countries to make them more sustainable and integrated, stimulating socio-economic recovery after the numerous crises of recent years.
We plan to launch an 8 million EUR project with the Organization for Entrepreneurship Development (ODA) to support implementing seven national programs in the next 2-3 years. They will be implemented throughout the country, and the initiative of entrepreneurs in the Cahul district will determine how much they can benefit from them.
Notably, one of the programs supports the digital transformation of SMEs. I invite readers to visit the ODA website for more information.
In addition, several regional programs implemented by the IFIs provide better access to financing for SMEs through loans, investment grants, and technical assistance. In most cases, the funds are channeled through local banks. The EU will also support the Ministry of Education and Scientific Research in its efforts to implement the national education strategy 2030, recently adopted. The modernization of the education system, improvement of school infrastructure, alignment of skill development with labor market demand - with a focus on "green" and digital jobs - and ensuring the attractiveness of the teaching profession are vital priorities.
The first phase of this sectoral education support is in preparation. It is expected to begin in 2023, with 10 million euros allocated to increase the relevance and quality of education and lifelong learning opportunities for all. Digitization is the foundation of this upcoming support within a dual profile: improving digital pedagogy and electronic management of the education system. In these same weeks, we are working with our implementation partners to finalize the operational plan of this important project, including strategies for using already tested innovative pilot projects such as Start-up City Cahul and Tekwill and, where possible, their expansion and replication. We are currently working on this, and in a few months, we will begin implementing this new educational initiative.
In Cahul, the EU supported 52 schools in enhancing their qualifications and gaining access to IT education. Overall, there are more than 333 such schools in the country. How do you evaluate the results, and how can we reach all 1,200 schools in Moldova?
The Startup City Cahul project is mandated to support schools in the Cahul region and, to a limited extent due to budgetary constraints, in southern areas. In addition to the specific results already achieved, the lessons learned during the project's implementation will be another added value. They will be used to expand the scope of digital education. Although, as mentioned above, the EU will contribute to this initiative as part of its upcoming project, well-coordinated efforts by other stakeholders will be required. All of these efforts should significantly reduce the regional and urban/rural digital divide and the expansion of digital inclusion by ensuring equal access to quality education for teachers and students and supporting the creation of regional online learning platforms. Policies and measures must be implemented to improve STEM education levels, especially among girls.
Boris, thank you for the interview. I wish you success in your work in Moldova and a pleasant stay in our country.