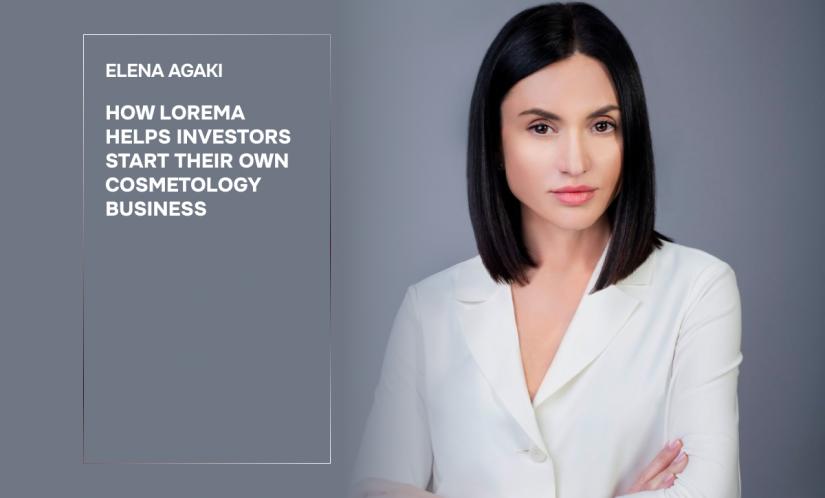 Elena Agaki. How LorEmA helps investors start their own cosmetology business
An interview with Elena Agaki, owner and director of LorEmA Esthetic.
LorEmA Esthetic has been an industry leader in the Moldovan market since 2015, providing top-quality products and equipment for the cosmetology industry.
The company represents world-famous cosmetic brands such as Amalian, Institute BCN, Dermedics, and Vild Nord marine collagen on the Moldovan market. It offers a wide range of professional equipment for medical and cosmetic clinics (Mantis Italy, Asclepion, Dermedics, Biotec Italy, VacuActiv, PZ Laser, Weelko, Clarius, Viora, LestheZone), as well as furniture for beauty salons.
In addition to distribution, LorEmA Esthetic operates an accredited training center called LorEmA Medical-Training Centre, where aesthetic medicine is taught in Romanian, Russian, and English.
Since 2018, the company has published the cosmetology magazine LorEmA Time.
Hello Elena. LorEmA Esthetic has quickly become a leading player in the Moldovan market, even though it entered the market later than many other companies. To what do you attribute this success? Was it significant investments at the beginning or years of experience in the industry?
It wasn't either of those factors. The secret to our success lies in my strong passion for starting a business in cosmetology. At the time of our negotiations with our first supplier, the Spanish company Institute BCN, I still needed to register my own company. However, I was highly knowledgeable about BCN's products and had a burning desire to secure exclusive distribution rights for Moldova.
I understand that it was not the best start to approach an international company. After several unsuccessful attempts to contact BCN by email, I asked a friend in Spain to help me arrange a personal meeting with the manufacturer. Even though she had difficulty scheduling the appointment, by some miracle, we ended up in BCN's Barcelona office.
Considering that you've been BCN's exclusive partner in Moldova for eight years, did the meeting go well?
There was a critical moment when we were running late for the meeting in an unfamiliar city and arrived right at lunchtime. Though we were invited to join them for a meal, I told my friend in Romanian that we hadn't come to eat. To my surprise, the deputy director of the company also spoke Romanian. After a brief moment of awkwardness, when I thought all hope was lost, we decided to have lunch together. During our meal, I impressed them with my extensive knowledge of BCN products, and as a result, they ultimately signed a contract with me.
An encouraging start...
Just two weeks later, when my husband and I were registering our company, LorEmA, we found out I was pregnant, which made the beginning both exciting and stressful. Initially, I worked alone as I was very responsible and only hired my first employee when I was confident that I could pay them on time.
That sounds great! Have you been able to maintain the BCN exclusivity so far?
LorEmA has a strict policy of working exclusively with our suppliers, a fundamental principle that applies to all partners, not just BCN. Given the significant resources and effort we invest in marketing, we strongly believe in the value of exclusivity. Therefore, we only work with our suppliers on exclusive terms. This business principle is shared and supported by all of our partners and has been a critical factor in our success.
Are you the only company in the field of cosmetology in Moldova that has its training center and magazine? Did you launch them simultaneously?
The training center was established before the magazine. The specific requirements of our work drove its creation. Mesotherapy and fillers require professional training to be used safely and effectively. Providing training ensures the safety and well-being of our patients. It also helps to enhance the professional skills of cosmetologists, resulting in an improvement in the quality of their work, an increase in the client base, and, ultimately, an increase in the volume of product purchases. We aimed to create a comprehensive ecosystem for Moldova's cosmetology market, which was a crucial step in that direction.
How many teachers do you have at your training center?
We have three instructors, all of whom are experienced doctors with the ability to share their knowledge in a competent and structured manner. I am genuinely proud of our doctors. Our partner Amalian has twice invited Dr. Natalia Grati to speak at the International Congress IMCAS in Paris, the world's largest professional platform for aesthetic medicine.
Does that mean you teach not only Moldovan specialists?
We teach foreign specialists as well. The LorEmA Medical-Training Centre is accredited and issues state diplomas and certificates recognized abroad. Specialists from Israel, the United States, Georgia, and the United Arab Emirates have studied at our center. The course program includes training for different levels of knowledge-from basic to advanced. Training can be done in groups or individually, and everything is designed to ensure the comfort of our students.
Did the LorEmA Time magazine become another element in your ecosystem?
It must have been a gamble to decide to publish our own magazine, but we have been doing it since 2018. Now the magazine comes out six times a year and serves as a reference point for news and leaders in the cosmetology market in Moldova.
Have we missed anything in talking about your main activities?
We have unconsciously occupied a niche that could become our separate line of business.
Which one is that?
It's cosmetology investment consulting. By supplying cosmetic products, equipment, and furniture for beauty salons, we are always up to date with our client's business. We train them, provide equipment maintenance services and clearly understand the financial performance of cosmetology clinics and salons. In our industry, if everything is built correctly and customers have confidence, the rate of return is high, and the payback period is short. Therefore, investing in cosmetology equipment is an intelligent choice for Moldovan entrepreneurs who want to expand their business and offer new services to their clients. Our investment consulting services can help you make the best decisions and maximize your return on investment.
Are you ready to provide turnkey solutions for cosmetology clinics or salons?
We can also provide trained employees. The investor won't have to worry about the details of the operation itself. Their focus will be on finances and general management. The equipment, which can pay for itself within a year, costs as little as 40,000 euros. It's hard to argue that you can start very few businesses with that amount of money in Moldova. However, with our equipment's flexible payment plans and impressive financial returns, investing in cosmetology business is a smart choice.
This opportunity sounds promising. Moldova's lack of available investment tools makes cosmetology a particularly attractive business with high growth potential. Despite economic crises, the beauty industry has continued to show consistent growth year after year. By incorporating this new service into LorEmA's portfolio, you complement your existing offerings and expand your customer base. Ultimately, this could be a win-win situation for all parties involved.
I agree. At LorEmA, we strive to meet all of our clients' needs by offering a wide range of products and services. Our product lines include hyaluronic acids from Amalian, mesotherapy treatments and peels from BCN Institute and Dermedics. Each of these brands has a line for salons and home product line. No matter what aesthetic problem our clients have, we give them a solution. In addition to our high-quality products, we offer a complete service for beauty professionals. This includes access to professional equipment, training, and information support at LorEmA Time. We have established long-term relationships with many cosmetologists who have worked with us throughout our business. Recently, there have been many young professionals who are eager to develop and understand that with LorEmA their professional path will be easier and more effective. LorEmA is a partner who will always help.