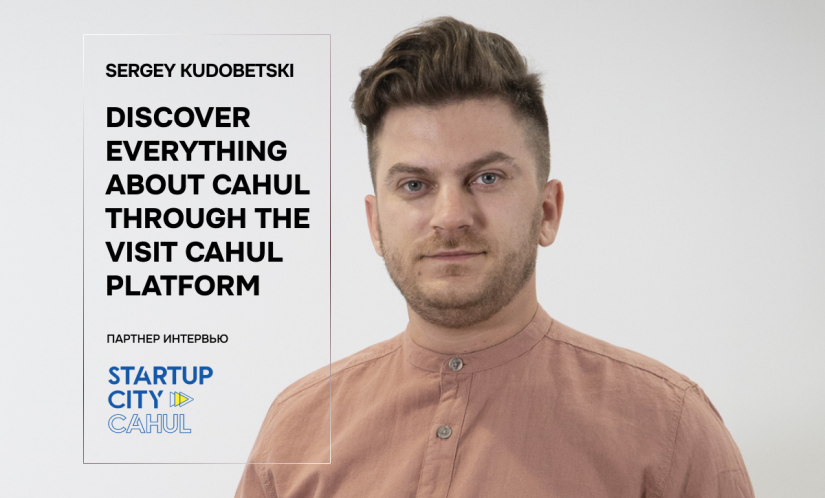 Sergey Kudobetski. Discover everything about Cahul through the Visit Cahul platform.
An interview with Sergey Kudobetski, co-founder of the Visit Cahul platform. Startup City Cahul column supported by ATIC.
Sergey, good day. The Visit Cahul platform was recently launched, in the spring of this year. Could you tell us about the purpose of this website and what information can be found on it?
Good day, the platform was launched on March 1st during the "Mărțișor" festival celebrations in Cahul. The website now provides access to information about cultural and sporting events in the region, details about kindergartens, schools, universities, and colleges, as well as options for leisure activities. Users can also learn about new tourist routes and catch up on the latest news from Cahul. While the project took about 8 months to implement, the idea of consolidating all essential information about Cahul and creating a user-friendly and comprehensive website that would serve as the city's calling card had been conceived even earlier.
When did you begin working on the project idea?
My wife Nadezhda and I are the founders of the Step by Step Discovery initiative group. We share a great passion for travel. Having visited numerous countries and explored nearly every corner of Moldova, we understand the importance of providing travelers with information about worthwhile destinations, suitable accommodations, and dining options. Regardless of how beautiful the region may be, with its exceptional cuisine and fascinating attractions, it is unlikely that tourists will be able to discover these hidden gems on their own if there is no platform offering this information.
During the pandemic, when borders were closed and domestic tourism became almost the only option for a change of scenery, we started creating videos about Moldova. With a decade of experience in video production, I had the necessary expertise to produce professional content. Initially, we filmed vineyards, fields, gardens, and various tourist sites, providing information on how to reach these places and what could be seen there. Amid the lockdown, our videos received positive feedback from the audience, and more importantly, people began exploring Moldova and discovering new places. We then expanded our content to include events, tourist complexes, hotels, and restaurants located outside the city, essentially covering anything that might attract tourists.
As Nadezhda and I are both from Cahul, we wanted to concentrate on a project that would showcase our city and the entire Cahul region. Surprisingly, we discovered that even some Cahul residents were unaware of local attractions, weekend getaways, and events to attend.
Did you initially choose to introduce the audience to Cahul?
Yes, our first video about Cahul garnered 25,000 views within four days, which was a remarkable result. However, we decided not to limit ourselves to promoting tourism alone and started working on a project that would serve as the city's calling card, encompassing a broader range of interesting topics. Moreover, we identified a key issue in our city: the absence of a centralized platform offering comprehensive information about local events and happenings. Since everything we had done up to that point was purely a personal initiative by our family, with us handling all the work ourselves, we began searching for a program that could assist in realizing our vision. The platform's implementation became feasible through a participatory budgeting program funded by the Cahul City Hall, where we received an investment of 100,000 lei.
How were the funds allocated?
We allocated 75,000 for the website's creation and 25,000 for printing various promotional and informational materials. My wife and I designed the Visit Cahul platform logo together. We aimed to create a logo that represented our region, so we used a water lily, one of the symbols of the Cahul district, as its foundation; the brown color represents the earth, and the yellow signifies the sun, warmth, and hospitality. We also gathered and organized all the information on the site. We listed all educational and preschool institutions in Cahul, noted their addresses, added descriptions, photos, videos, and contact phone numbers. The site includes all sports sections, schools, and clubs. We paid particular attention to tourism, dividing this section into several categories – tourist destinations, gastronomy, local artisans and craftsmen, tourist routes, and accommodation options. We also added various relaxation options, such as swimming pools, playgrounds, cafes, and restaurants. The site features an event calendar, and for user convenience, we implemented a filter to help select the date, location, event type, and age.
Is the information on the site updated regularly?
Yes, we maintain a "News" section that we update frequently, and new information is added to the event calendar as well. We strive to enhance all sections to make them as useful and informative as possible.
Spring and summer are among the busiest seasons for events. What do you recommend visiting in the Cahul district?
Our region hosts numerous events that have become traditional. Your preferences and tastes will determine the best options. For example, the Festivalul din Luncă will take place on May 7 in Slobozia Mare, where guests can participate in various workshops, purchase souvenirs and local products, sample traditional dishes, and enjoy artist performances. The national ethno-folklore festival, Dulce Floare de Salcîm, will occur from May 12 to 14. The MOLDOX documentary film festival will be held in Cahul from June 21 to 25. One of the most popular folklore festivals, Nufărul Alb, will begin on June 28.
Will the platform prioritize tourism?
While tourism is undeniably the main focus, we also aim to develop other areas. For instance, this year, we primarily want to concentrate on sports and culture. Cahul is home to numerous talented athletes, many of whom have won national and international competitions. Our goal is for as many people as possible to learn about our skilled and talented athletes and be informed about sports events and competitions at both local and national levels.
Cahul has been designated as the country's cultural capital, so we plan to devote attention to this aspect. We will work on documentary films, produce new videos about our city, and share stories about traditions and customs. We maintain ongoing communication with Cahul City Hall and are confident that, with their support, the Visit Cahul platform will continue to develop and expand.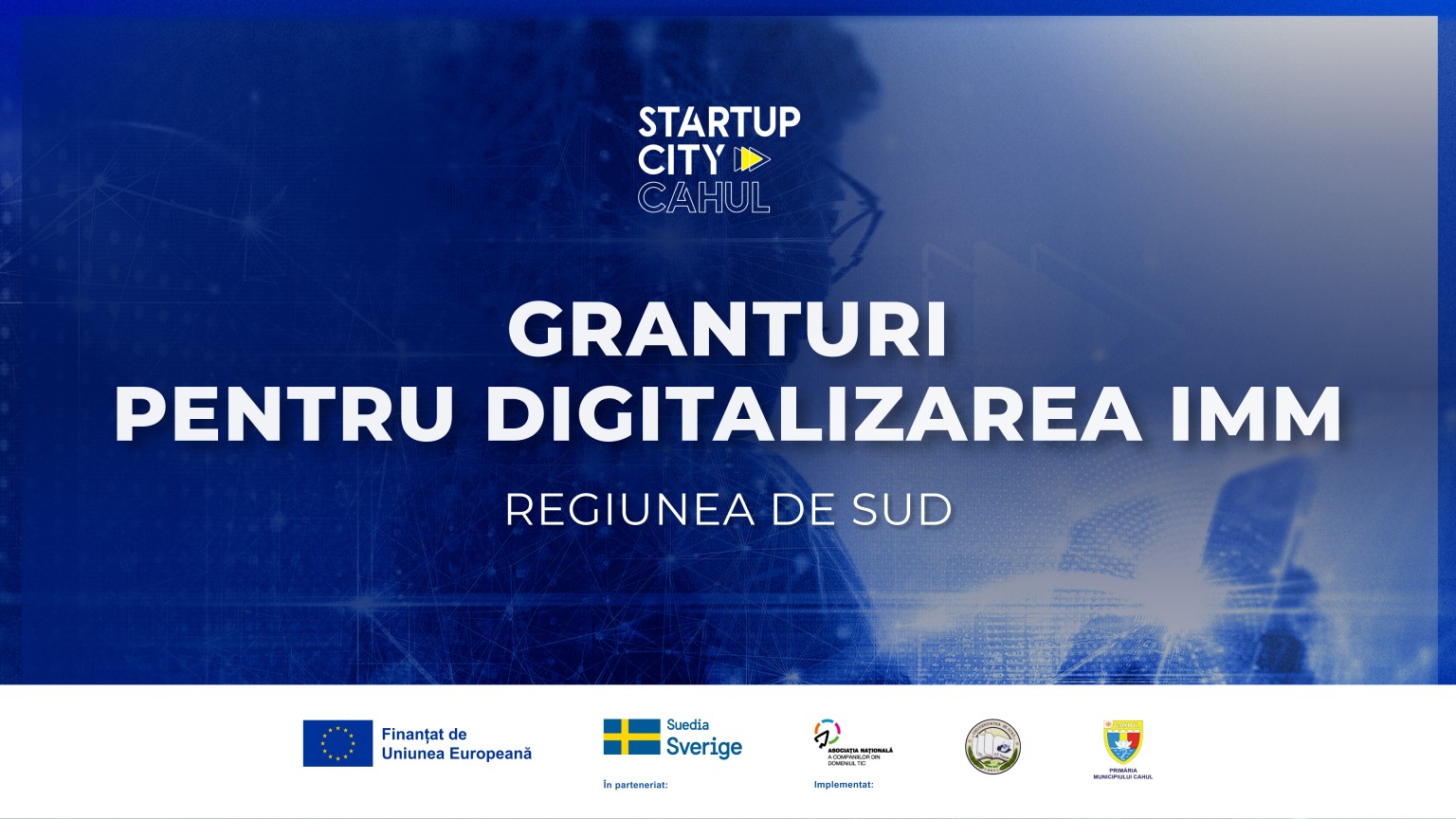 Startup City Cahul is extending the application period for participation in the Small and Medium Business Digitalization Grant Program for another week. This means that even more entrepreneurs in the region will have the opportunity to receive up to 20,000 lei in financing for their businesses.
Now the program is open to entrepreneurs who are not participating in the Digital Upgrade program as well. You have the opportunity to receive financial support for your business to automate work processes, integrate online payment systems, develop and strengthen the digital skills of your employees, and much more.
Please note that you must meet the following requirements:
Be registered as a legal entity in one of the districts: Cahul, Cantemir, Leova, or Taraclia;
The minimum period of activity must be one year;
Be prepared to ensure the sustainability of the digitalization solution over time.
The implementation period of the financed project is a minimum of 3 months and a maximum of 6 months.
To apply, fill out the form at bit.ly/3ULQPEt by April 25, 2023.