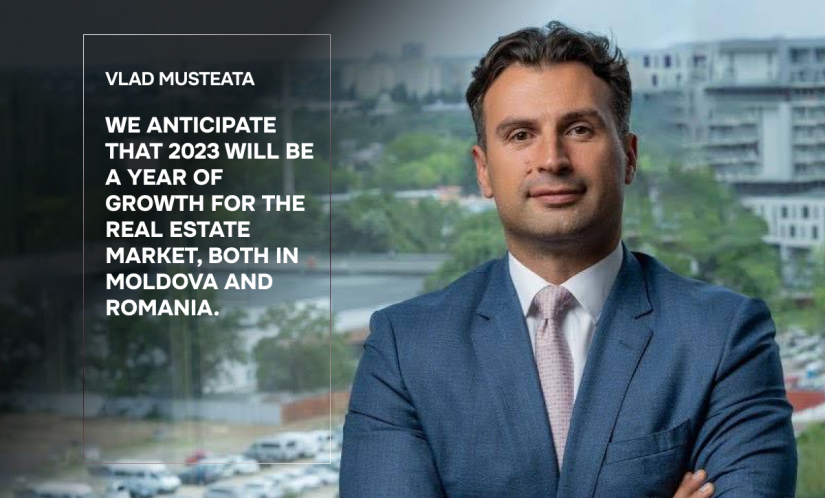 Vlad Musteata. We anticipate that 2023 will be a year of growth for the real estate market, both in Moldova and Romania
The interview with Vlad Musteata, owner of Proimobil.md and North Bucharest Investments.
Vlad, good day. We've done quite a few "situational" interviews with you, but this interview has a different goal – to briefly introduce you and your companies in Moldova and Romania. Shall we get to work?
Sure, let's do it.
When did you establish your real estate agency in Moldova?
Proimobil.md was created in 2011, twelve years ago.
And North Bucharest Investments?
I registered the company in Bucharest in 2017.
Thanks to the team you've put together, Proimobil.md has become the undisputed leader in the real estate market in Moldova. What does your team in Chisinau look like now?
We currently have a team of forty members. Moreover, we've established strong partnerships with over 300 independent agents. This extensive network enables us to monitor the best real estate properties and deals within the Moldovan market.
When did Proimobil.md transition from being merely a real estate agency to serving as an "investment-focused agency"? How do the standard buying and selling transactions compare with those made in the interest of investors within the company's current portfolio?
Starting from early 2019, we noticed a surge in clients in Chisinau engaging in primarily investment-oriented transactions. These investments typically involve purchasing apartments in new developments during the early construction phases, with the intent to resell the properties either upon completion or just prior to it.
Was it Proimobil.md that became a pioneer in such investments in the Moldovan market?
This is not something unique in other markets. During the construction of large residential complexes, the price per square meter of real estate tends to rise as the project nears completion. This trend is typical in markets such as Turkey, Ukraine, Dubai, Moldova, Romania, and less so in Western European countries. In Moldova, this trend has been amplified by the fact that there have been no situations where construction has been frozen by reputable developers. All projects were delivered on time, which only encouraged investors, making investments in new projects a profitable business. By the way, similar trends can be observed in Romania, particularly within the new complexes of Bucharest's Sector 1, an area that North Bucharest Investments specializes in.
I want to ask you about Romania a little later, but let's wrap up with Moldova for now. Who are your main partners among developers?
We have collaborated with all the major companies in the capital. Dansicons, Eldorado Terra, Oasis, City. Gardens, Lagmar, Pamir Construct. Over many years, we have established solid relationships that always simplify cooperation and make it effective for both sides. However, the success of the company is built not only on partnerships, but also thanks to contributions of our dedicated team. We have many agents with extensive experience in selling both luxury real estate and new economy-class homes, as well as houses in Chisinau and the suburbs. Essentially, we operate as a supermarket for real estate. In one office, you can connect with the most suitable professional who specializes in your specific real estate needs.
The last question about Chisinau that I wouldn't want to overlook. Charity…
I don't like to talk about charity much; let our actions speak for us. However, we've firmly established our direction in charity – it's helping children from low-income and socially vulnerable families. What gratifies me is that these initiatives stir engagement across our entire team; no one remains indifferent.
Moving on to Romania, can you tell me about your experience entering the Romanian market?
Initially, I personally visited Bucharest and spent several months analyzing the real estate market. I studied all the city's districts, yet the north of the capital particularly intrigued and appealed to me. Areas around Herăstrău Lake and Floreasca were of special interest. The potential of the area is immediately apparent, characterized by an abundance of parks, a multitude of modern office buildings, and a sizable population of expats who have made Bucharest their home. Essentially, it felt like a city within a city. Consequently, I decided that our focus in Romania would be on this region. And I must say, my decision didn't disappoint. We are currently witnessing robust growth, and I expect that North Bucharest Investments will become the leader among real estate agencies in Sector 1.
Does your emphasis in Bucharest also lie on "investment property"?
Our main focus is indeed on that. We collaborate with only the most reputable and reliable developers. For our clientele, we handpick investment opportunities that currently offer up to 12% annual returns. This positions the Romanian property market as one of the most rewarding globally in terms of real estate investment yields.
Who are your clients?
Having previously explored the markets of Cyprus and Turkey, Ukrainian investors have come to realize that Romania offers not only proximity to Ukraine but also a market with a remarkably high profitability rate. Additionally, Israeli investors, who temporarily halted their activities during the onset of the war in Ukraine, have recently reengaged in the Romanian market. Similarly, Italians have shown interest. My proficiency in Italian greatly helps in working with the Italian diaspora in Bucharest. Furthermore, I am delighted to observe an increasing number of Romanian investors approaching us, which confirms that we have chosen the right development course for the company.
What are your plans for 2023?
I anticipate that 2023 will mark a transition from the crisis triggered by the onset of the war to a phase of renewed growth. In Moldova, this will be supported by the European development vector, confirmed by the attention received from European leaders. The upcoming European forum scheduled for June in Moldova, is the best confirmation to this positive direction. Our aim in Moldova is to fortify our leading position in the market. As for Romania, our focus will be on Sector 1 in Bucharest, particularly given its substantial volume, which is equivalent to approximately 20 Moldovan markets combined. Our objective in Romania is to become the top-ranking company in the northern region of Bucharest.